Take Your Curation Mobile With The New Scoop.it Android App
See on
Scoop.it
-
Hotel Revenue e Social Media - PIergentili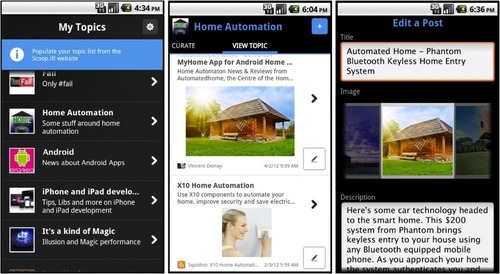 Giuseppe Mauriello: After Scoop.it for iPhone (December 2011), Content Curation and Publishing Platform Scoop.it announced its Android app which will bring mobile curation to all Android users.
Excerpted from article:
"Much like the iPhone app, the Android app will allow you to leverage the suggestions you've configured for your topic as well as suggestions from other users. The publishing window is almost identical to that of the website and, of course, you will have all of your sharing options.
But, what's the best thing about the Scoop.it mobile app for Android? Well, we've taken simplicity a step further as the App adds Scoop.it to your browser's native sharing menu. Now, to curate content you discovered while browsing, you no longer need to copy and paste the URL from your phone's browser or install the bookmarklet. Content can be posted to Scoop.it by simply clicking your browser's share button.
And just like its iPhone counterpart, the app allows to you do perform essentially all of the tasks of curating your topics without telling anyone you did it from your phone. Whether your posts are published from your phone or from your computer, your topic pages will always sport the same fluid magazine layout…"
Read full original article here:
http://blog.scoop.it/en/2012/05/02/mobile-curation-is-now-easier-than-ever-with-scoop-it-for-android/
See on blog.scoop.it